Who Else Wants to Learn the Missing Component and Proven Training Blueprint That Will Take Your Workouts and Performance to the HIGHEST Level.  Get Insider Access to Two of The World's
Most Highly Sought After Strength & Conditioning Experts
and Learn Exactly How They Create Agile, Mobile and Hostile Wrecking Machines!
The Feedback We Received Since Launching the AMPED WARM-UP System Has Been Overwhelming. After We Heard From Athletes, Coaches, Physical Therapists and "Average Joe's" Across the Globe, Joe and I Knew We Had to Create This One-of-a-Kind Seminar Series.
The AMPED Warm-up Seminar Series will teach you the perfect way to structure your pre-workout or pre-game warm-up session. What you'll learn is that the same exercises you use for your warm-up will also be used for your post-workout recovery sessions. The AMPED Warm-up System (TM) is a unique blend of self-myofascial release (or SMR), dynamic mobility movements and activation exercises. Learn, apply and reap the benefits of this proven system!
Benefits of a Good Warm-up / Dynamic Movement Prep / Recovery Session
improving your fluidity of movement
activating the muscles that have been shut down or "inhibited"
rehabbing current injuries and preventing new injuries
improving soft-tissue quality and extensibility
increasing the mobility in joints that have become immobile.
increasing core, joint, tissue temperature
increasing blood flow, heart rate and metabolism
muscle fiber, motor unit activation and recruitment and CNS excitement
improving performance
When: TBD
Time: 9am-3pm
Location: DeFranco's Gym
Garden State Industrial Park
750 Braen Ave., Building E
Wyckoff, NJ 07481
Cost: $197 / person
The AMPED Seminar Series (TM) is accredited by the NSCA. You will receive 0.6 CEU's for attending the seminar.
9:00am-12:00am: The AMPED System
What you'll learn during this hands-on, real world session:
The evolution of the warm-up
REAL Athletes/REAL Results: For the first time, I will reveal actual warm-ups & special exercises used by some of my "high-profile" clients to return from injuries in record time and break PR's!
Common warm-up mistakes YOU may be making without knowing it
How to improve fluidity of your warm-up movements
How to activate muscles that have been "shut down / inhibited" for years
Rehabbing current injuries & preventing new ones
Being "realistic" – developing different warm-ups for different athletes in different situations
How to structure an athletes warm-up to improve performance immediately
…and much, much more!
12:00am-12:30am: LUNCH
12:30am-3:00pm: Team Workout
Come prepared to train! Expect to have the best training session of your life!
Directions / Hotel Information / Flight Information
Click HERE to download the traveler packet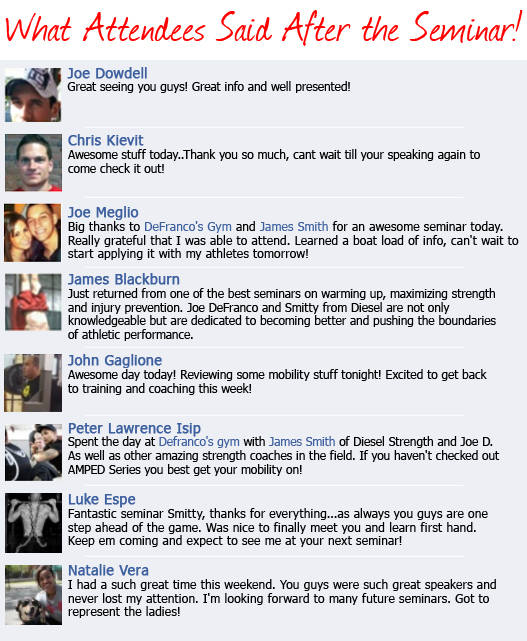 What Some Other Fitness Industry Leaders and Professional Athletes Have To Say…
"AMPED is one of the most valuable resources…"
"AMPED is one of the most valuable resources an athlete can own. This is because a proper warm-up is essential if you're looking to have an intense workout or a dominating on-field performance. Personally speaking, I've experienced BOTH after performing the warm-ups outlined in AMPED! I also love incorporating the 'recovery' warm-ups during my off-days because they keep my legs feeling loose and fresh."
Brian Cushing Houston Texans Linebacker 2009 NFL Defensive Rookie of the Year
"The Amped book and DVD are a must-have…"
"Joe and Jim have done the unthinkable, they've made warming up seem cool. The Amped book and DVD are a must-have for people who want to be strong and injury-free throughout their training careers. Every move and technique you'd ever need is in here, along with plenty of sample routines so you never get bored. I can't wait to "Bitch Slap My CNS" next workout!"
Sean Hyson, C.S.C.S., fitness editor for Men's Fitness magazine
"…the most thorough and effective warm-up system I have ever seen…"
"I'll tell you what, the Amped Warm-up manual and DVD package is the most thorough and effective warm-up system I have ever seen. The movements are not only great, the coaching points, illustrations and video demos make them virtually fool-proof. Once again Joe and Smitty have come out with more great stuff to help you, your athletes, and/or your clients get better. DO WORK!"
Robert dos Remedios, MA, CSCS, SCCC www.coachdos.com
"AMPED Warm-up is a MUST have resource…"
"As a coach there are certain resources that you MUST have in your library/tool box. AMPED Warm-up is that

MUST have resource

that will blend with any program you are doing. I like the specific back warm up on page 22 or my favorite the "Porn Star" warm-up on page 18. (no seriously it really is called the Porn Star Warm up)" "I once heard the value of a person can be measured by the knowledge they apply from books they read. You are short changing your coaching knowledge, speed potential, and athletic career PERIOD if this resource is not in your library. Joe and Smitty put together a great body of work and resource for you that shows their passion and dedication to what they do and the athletes and coaches they serve.

So stop reading and add this jewel to your library and start getting results

."
Nii Wilson USAW Sports Performance & Underground Strength Coach Bronx, NYC