Check Out What the NEW RECHARGE System Will Do For You!
Brought to you by CPPS Coaches, the new RECHARGE System is ready to change your recovery forever. No more complicated warm-ups or confusion about how to get ready to train or play any sports. The simple 3-step RECHARGE process will show you the most effective way to feel better, move better, and be stronger in whatever you are doing. Proven in the real-world, RECHARGE will change how warm-up and give you the simple blueprint for using the hundreds of different pre-workout and recovery drills that you already know AND use.
And, if you act now, you will save over 40% OFF of the total regular price of the program.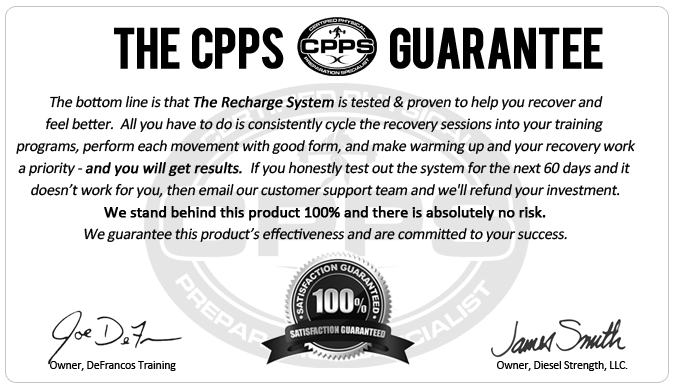 NOTE: The new Recharge System is a completely downloadable series of digital e-manuals and videos. No physical products will be shipped. After you order, you will get instant access to the download links. You will be able to download all product components onto your computer (no waiting or shipping costs!). The format for all e-manuals is Adobe Acrobat PDF, which can be viewed on Mac or PC. The video files can also be viewed on Mac or PC.