5 Practical Ways to Actually Change Your Life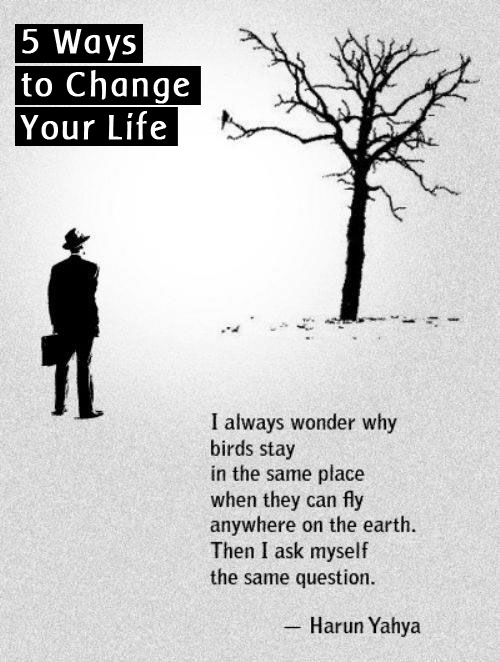 5 Practical Ways to Actually Change Your Life
In my efforts to inspire you to be epic in your life, challenge you to overcome adversity and to motivate you to want more for yourself – I've given you a glimpse at the mindset of a successful person.
But I haven't given you any idea of how to actually become successful.
And sometimes, a few simple steps is all it takes to get the ball rolling.  Here are 5 simple steps that might be the spark to ignite the fire that could be your life.
Step #1 – Find Your Passion and Write it Down
If you weren't working your current job, what would you be doing?  Or more specifically, what do you want to do with your life?  This might take a while, but you really have to think about it carefully because it will drive everything from this point forward.
Once you discover your passion, write it down really big across the top of a piece of paper.  Once you write it down, it becomes something real.  Put it on your bathroom mirror, your fridge, your screensaver – so you can look at it everyday.  Let it burn into your mind, so it NEVER leaves you again.
Because once you know your passion and write it down, it will truly become part of your life.  And once you start living your passion, you will inspire others to live their dreams. 
The final challenge is to figure how your passion can help others and add value to their lives.  Once you do this, you will become unstoppable!
Step 2:  Eliminate Distractions and Get Focused
Because many people are working jobs that are different or in contrast to their passion, their free time is a precious commodity.  You know, the time after work when they're typically just lounging around and chillin' out not doing much.
Gary Vaynerchuk has spoken in depth about how, if you need to keep your current job to pay the bills, you have to live your passion on your time, i.e., the time AFTER work.  Your job ALLOWS you to live your passion during your free time, until you can live your passion ALL of the time.  The problem is that everyone is so caught up on YouTube, Facebook, watching tv and talking on their cell phone that they can't focus on anything important during the time when they can be most productive.
Time is everything and every second counts.  If you choose to live your free time with all of these distractions, then you'll never be able to take action on your goals.
Remember the sheet of paper with your passion on it?
Underneath your passion, create a column for distractions that are in your life everyday.
Your favorite TV shows?
Talking on your cell phone?
Surfing the web?
What is probably surprising to you is how long the list becomes.
You need to start focusing on and eliminating each one of these distractions systematically – so that your free time really becomes a time where you can get a lot of stuff done.  You need to understand that these time-stealing activities are sabotaging the very happiness that you long for at your "day job".
If you really want success, this will be the easiest part of your transformation and it will happen quickly as soon as you realize how precious time really is.
Step # 3 – The 30 Minute Grind
Now that we've determined our passion, we've identified and started to eliminate the things that distract us, we need to focus and get work done.
For a recent article on LIVESTRONG.com, called 20 Ways to Instantly Improve Your Life, I wrote about one tip that changed my life.  I have ADD pretty bad, which basically means I can't focus on one task for more than 30 seconds before I lose interest.  This has been a huge burden for me when I've had large projects to work on through the years.
And when someone starts thinking about their greatest passion and what they want to do with their life, they become overwhelmed just like me with a large project.  They feel that it is too big of a challenge and that they'll never get there.
My best tip is to work on:
– your action items
– your strategies
– your lists
– your passion
…in 30 minute blocks of time.
From the LIVESTRONG.com slideshow:
Block Off Your Time
"To manage tasks at home or at the office, you can get a lot more done if you work in 30 minute intervals. Use a simple timer on your phone or computer to track the time you spend on a particular task. When you reach 30 minutes, stop, and move on to the next thing. This approach forces you to be productive because you only have a very limited window to work on a task before moving on to the next one. You may have to come back around to the same task a few times in a day, but you'll always be making progress." — Jim Smith
Write down and determine your list of action items for the day in order of priority.  In your free time, start working on the top priority task for 30 minutes.  Once that block of time is over, move to the next one.  Because you only have 30 minutes to work on each one, you will be super productive and super efficient with your time.
Step #4 – Getting Real With Your Expenses
Just like we wrote down all of the distractions that work against us, we now have to make a much more difficult list and make some serious sacrifices.  We need to determine which extra expenses you have that are forcing you to work paycheck to paycheck.
Do you really need that new car?
That new shirt?
That coffee every morning?
Those DVD rentals on Friday night?
Is it the actual "stuff" that you want, or do you just want the "feeling" the stuff gives you?
If you feel trapped in your current job because of all of your "bills and expenses" and you're telling me that you can't get out of debt – then I'm going to force you to make this list for me.   And you're going to have to make some tough decisions.
To live your passion and change your current situation, it is going to take ABSOLUTE commitment and discipline.
Eliminate these extra expenses and save every penny, nickel, quarter, dollar, returnable bottle, donate blood and take up performing magic on the corner.
DO EVERYTHING YOU CAN BECAUSE IT IS THAT IMPORTANT. 
Remember, time is running out and no one is going to do this for you.
Step #5 – Take Action Without Hesitation
The last step is the most important.  It doesn't matter how many motivational videos you watch or inspirational articles you read, if you don't TAKE ACTION – you will never accomplish ANYTHING.
I just gave you 5 simple steps to get moving on your biggest project – your life.  You've been spinning your wheels and not going anywhere for a long, long time.  Don't you think you deserve the feeling of success?  Stop sabotaging yourself and believe that it can happen.
The hopes and dreams that you have for your children to live a long, healthy and happy life – can be yours too.
Maybe you've just forgotten that.
Become Diesel Insider
Discover Critical Muscle Building Tips
Get Super Effective Workouts and Programs
Live the Life of Your Dreams
Become a Master at Getting Shit Done.
Quit F*cking Around - Let's go!