How to Tape Ankles for Athletes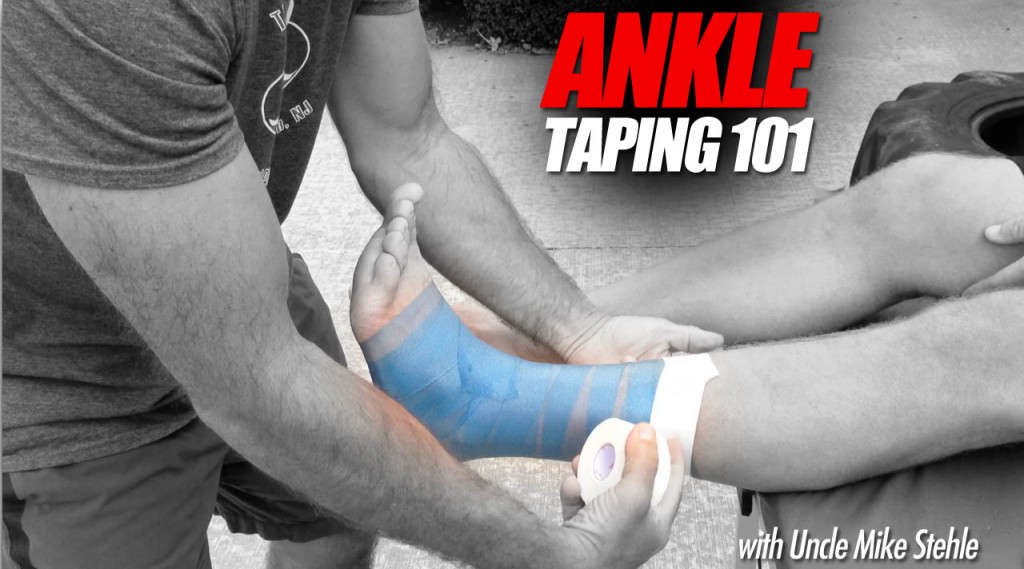 Today we have a guest blog post from Uncle Mike Stehle (trainingroomonline.com) on how to tape ankles for athletes.  Uncle Mike has been an athletic trainer for over 20 years and is a beast in and out of the weightroom.  He was in our group for the recent SEALfit challenge and was a leader the whole day.
During a trip to NJ, I was hanging with Uncle Mike when he was working the sidelines of a high school soccer game.  I was blown away when I saw him taping an athlete's ankle and knew I had to have him film it for us.
Thank Uncle Mike!
How to Tape Ankles for Athletes
Here is the step-by-step process that Uncle Mike using to tape for inversion sprains.   Don't forget to check out the video at the end to see Uncle Mike in action.
Step 1:  Pre-Taping
Step 2:  Setting the Anchor
Uncle Mike angles the anchor down and doubles up with two anchors. 
Step 3: Putting on the Stirrup
Uncle Mike pulls the stirrups into eversion to prevent inversion; medial to lateral.  Overlap the stirrups by 1/2″.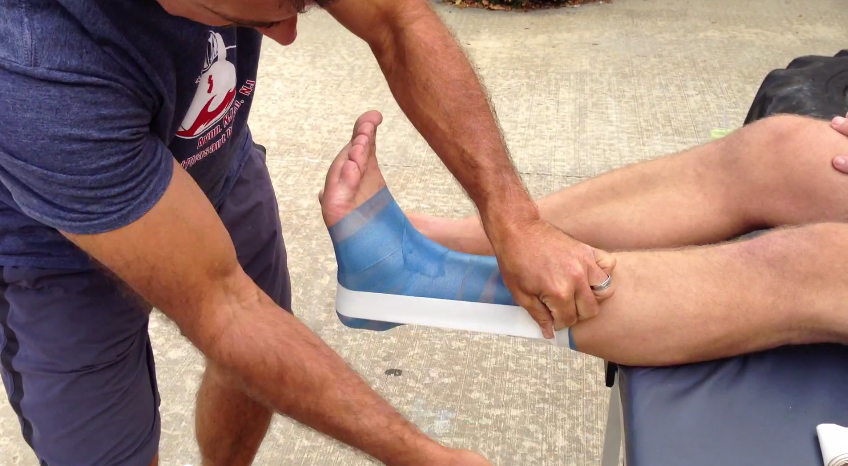 Step 4:  Anchoring the Stirrups
Step 5:  Putting on a Heel Lock
Angle the tape down from the anchor around the heel and back around.  Put two heel locks on each side.  This will lock the heel bone and prevent excessive plantar flexion.
Step 6:  Figure 8's
Step 7:  Closing the Windows
Closing up all of the open areas.
That's it.
The great thing about this video is that you can practice the techniques over and over again. Please share the video with all of your staff and coaches in your network.
Check out Uncle Mike's main site: http://www.trainingroomonline.com/
Also, Uncle Mike just released his mini-metcon product. Uncle Mike created mini-metcons for people who don't have tons of time to hit conditioning at the end of the workout. Some of these mini-metcons only last 5-10 minutes. Everyone has 5-10 minutes! For each mini-metcon, Uncle Mike walks you through step-by-step and he is with you the whole way.
Bottom line: Uncle Mike is cool.
Check out his awesome new product: http://www.minimetcons.com/
By Smitty on October 8th, 2012
FREE DIESEL NEWSLETTER
Discover Pain Free, Joint-Friendly Training
Get Super Effective Workouts and Programs
Inspirational Life Lessons Each Week
Effective Habits For Busy Entrepreneurs