Letters to All the Beautiful Little Girls – Part 2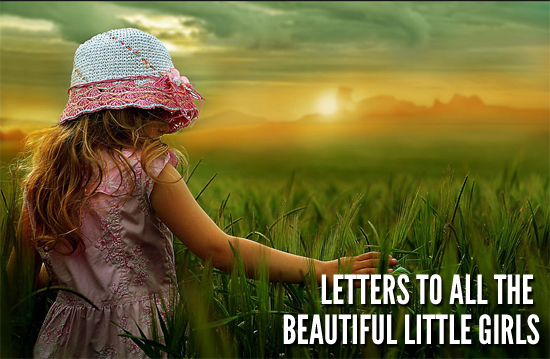 If you missed part 1 of this article series – Letters to All of the Beautiful Little Girls – please go and read it to learn how this project got started.
Being a Dad who is absolutely dedicated to helping my children grow into responsible, caring, and confident adults – I am driven with a purpose.  Every action I take and every 'life lesson' I talk to them about is focused on creating a confidence so strong – the world can't take it away.  While sometimes it does feel like a losing battle, I am consistent and relentless.
Let's see three more accomplished women who were able to forge strength in their lives, just by learning how to love themselves and BE themselves.
Dear (younger) Jules:
As an older (and perhaps wiser) woman now, I think back to my younger years and wonder: If I knew then what I know now, what could I have done differently (and better)?
This is a tough question because hindsight is always 20/20. I'm a firm believer that the situations I went through growing up have prepared me for the exact moment of where I am today. But that's not to say that I can't offer some valuable words of advice to you, I mean, me.
Don't let the opinions of others be greater than the opinion of yourself. Too often, you find yourself wanting kind words and wonderful compliments from those around you. But the "good" feeling those words give you are only temporary to the feelings of self-worth that are deep inside.
Speaking of self-worth, stay true to who you are. You know what you're passionate about and you know your values. Hold fast to these as they are the true constants in your life at this age. Paste them on your wall and write them on your heart. These are the foundations of your life. They are YOU.
What you look like isn't really as important as others make it out to be. Your peers, the media, the magazines, the TV shows all tell you that you have to look a certain way to be accepted. Excessive exercise and extreme dieting will get you nowhere. First of all, they won't get you the physical attributes you're searching for anyway. And second of all, they will destroy your body from this inside. YOU are worth more than putting your body through unnecessary stress because all your peers look a certain way.
Your body is a machine. Literally. You are capable of so much. Give more than you gave yesterday, both physically and mentally. Your body is capable of some pretty amazing things. It does more than just eat, sleep and play sports. The intricate details that happen on such a minute level are far beyond comprehension. And while you may not learn all of these details until much later, know this- you CAN do anything you put your mind to.
The foods you eat are the fuel for your body. Literally. Don't think the 800 calorie diet you followed your junior year is good because it's low in calories. I can vouch for this – it was low in nutrients too. One of the best things you can do for yourself is take care of your insides with good food and proper rest.
Follow your heart and stay true to yourself. The voices of others will come and go but YOUR voice is the one that remains with you forever. When you love what you live for you, you love yourself. And when you love yourself, you are happier, more joyful, and ready to take on the world.
Literally.
Much love,
Older, wiser Julia
Julia's Bio
Julia Ladewski, CSCS, is currently the director of Parisi Speed School in Northwest Indiana working with youth and adults. Previously, she spent 8 years as a Division I strength coach at the University at Buffalo.
As an Elitefts.com sponsored athlete and Q&A staff member, Julia is an Elite level powerlifter once holding the #1 spot in the 132 pound class. After having two kids, she is back on the platform making her way to the top in the 123's. Her best lifts to date are 462 squat, 255 bench and 424 deadlift.
Julia continues to write about youth sports performance and female strength sports. Her writing can be found on Elitefts.com and DangerouslyHardcore.com. She also offers training programs for powerlifting and female strength training as well as nutritional consultation.
Keep up with Julia through the web:
Website: www.JuliaLadewski.com
Twitter: www.twitter.com/JuliaLadewski
Facebook: www.facebook.com/Julia.Ladewski
Training log on Elitefts: http://tinyurl.com/EFSjulia
Articles on Elitefts: http://tinyurl.com/EFSarticles
Dear Jen (or Jenny, as you are called until you are 14 years old),
The last twenty-some-odd years have taught me a ton – countless lessons, as I have evolved as a person and managed to glean more knowledge and wisdom from each precious experience. Sure, there are the obvious things, like make sure to save some money for a rainy day, change the oil in your car, and make your bed. However, the things that I have found most valuable have been the lessons relating to a healthy body, mind, and lifestyle, and those are the ones that I want to share with you today.
• Relish in the fact that nobody is quite like you; they never will be, and that is a great thing!
• Appreciate the beauty in others, but always cherish your individuality.
• Find your unique pattern, your groove, your path, and follow it with all of your heart.
• Speak nicely to yourself; she is listening, and will respond accordingly.
• Eat high quality and nutritious food, and get in tons of veggies. That's it. Don't overanalyze it.
• Treats are great once in awhile, so when you do indulge, enjoy it to the fullest and then move on.
• Activity can and should be fun – find what you love to do and strive to do it well.
• Ditch the naysayers, hecklers, and pessimists in your life. I call these "energy vampires" and they are a waste of your time.
• Help people by giving to others. Give more. And then give even more.
• Nothing is more attractive than radiant health and happiness. It's all interconnected.
• Get plenty of rest. Nobody is productive, fun, or healthy when they are sleep deprived.
Life goes by quickly, so make yourself happy above all else, and don't worry about what other people think.
To quote Lady Gaga, "Hold your head up girl, and you'll go far…."
Sincerely,
Your future self – Jen xo
Jen's Bio
Jen Comas Keck is a health and lifestyle writer that has been published in various magazines and websites, such as Men's Fitness, Muscle & Fitness, Men's Health and EliteFTS.com. She is a team member and columnist for EliteFTS, and runs a successful online nutrition coaching program with her husband, along with maintaining her own website.
Keep up with Jen through the web:
For more information, please visit her at http://JenComasKeck.com or http://BeautyLiesInStrength.com
Dear Neghar,
I know things are rough right now. You feel lost, alone, sometimes downright depressed. I know that sometimes you cry yourself to sleep at night and wish you were prettier or more popular, or that your parents would pay more attention to you. I know that you turn to food for comfort and that Dad keeps telling you that you're going to be fat when you grow up. I know that you have dealt with a lot of bullying through elementary and middle school, and that the pain of being teased is real and lasting.
But I also know that it gets better.
Ten to fifteen years from now, you'll be in love. Like, madly in love with a man who treats you well and is your perfect match. You'll have a little boy who is so smart and precocious and makes every day bright and beautiful. You'll have an infallible passion for fitness and healthy food, and you'll even get the rare ability to turn that passion into a career-a budding career that is making you a better version of yourself.
You will inspire people every day, and the depth of that reward is immeasurable.
You're going to go through some pretty trying times until then. You'll join the military, move across the country, get married, get divorced, become a single working mother and spend 4 years in an abusive relationship. You will come out of that relationship and feel hopeless, but the next few months will prove life changing.
Something will stir in you.
For the next few months, you will delve deep into self-reflection and introspection, discovering that you are co-dependent, facing those demons, and figuring out how to beat them. You will emerge the strongest, most independent/interdependent version of yourself you have ever been, but it's going to take facing your deepest flaws and owning up to them. Eventually, you will embrace yourself and a whole new world will stand before you.
I know it seems impossible to do, but loving yourself is an integral part of your growth. Never forget to take pride in your accomplishments, be confident in your actions and cautious with your words. Conversely, don't be afraid to admit when you're wrong, as it will build character and allow you to have healthy relationships with others.
People will try to break you, but you must always hold strong-your success, and the life of your future son depends on it.
You'll fall, over and over and over again. Just get back up, own your mistakes, forgive those who wrong you, and keep working to get to a place of balance and self-acceptance in your life. You will learn to love yourself in order to truly love others. You will accomplish feats of strength, both physical and emotional, you never thought possible. You will be like a lotus, blooming almost impossibly, from dark and muddy waters into a beautiful flower full of promise.
Love,
Future You
Neghar's Bio
Fitness coach, writer and mom, Neghar Fonooni is passionate about helping people transform their lives and become the best possible version of themselves.
A Los Angeles native who spends most of her time split between New York City and Baltimore, Neghar brings her 12 years of training experience to worldwide workshops, numerous fitness publications and her exclusive online coaching program. Aside from pullups and deadlifts, some of her favorite things include red wine, dark chocolate, traveling, yoga, shopping, collecting books, reading with her son and cuddling with her french bulldog.
An unabashed scifi and fantasy nerd, Neghar snorts when she laughs and believes that a fit lifestyle is one of the integral paths to complete happiness.
Keep up with Neghar through the web:
Website: http://www.negharfonooni.com/
Facebook: http://www.facebook.com/EatLiftandBeHappy?fref=ts
Twitter: https://twitter.com/NegharFonooni
I hope you enjoyed this two-part article series. I am very proud of each of the contributors for their hard work.  I hope these important lessons reach as many beautiful little girls as possible. Little girls who might be struggling with so many insecurities. 
Please visit each of the contributor's sites and show your support.
I would also appreciate you sharing these two articles on your site(s), Twitter, Facebook, and with your family.
Rage!
Smitty
Previous related articles:  The Dad's Creed and An Open Letter to My Daughters
By Smitty on January 28th, 2013
FREE DIESEL NEWSLETTER
Discover Pain Free, Joint-Friendly Training
Get Super Effective Workouts and Programs
Inspirational Life Lessons Each Week
Effective Habits For Busy Entrepreneurs