The Walmart Syndrome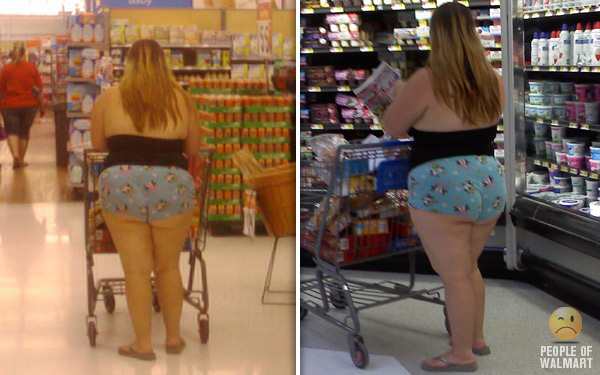 The Walmart Syndrome
The other day I went to Walmart.  Nothing special happened but I did have sort of a revelation.
One, Walmart is a great place to see the new summer fashions (up yours Paris runway) and B, something strange is happening in the parking lot.
I was stopped at the stop sign and watched the traffic pattern.  It was a particularly busy day and I was waiting for a couple minutes.  And in that time I noticed the same cars going around and around, down the aisles looking for a spot.  The same cars!
It dawned on me, they were looking for a parking spot closer to the door.  Now granted, there were plenty of spots way off in the parking lot where the people would have to walk to get to the store.  But these shoppers weren't just frugal, they were lazy.  Double threat!
So, just to make a point, I drove way off to the end of the parking lot and walked in.  My own personal trek.
Being Different
If you miss the opportunity to stand out and be great, it might not come back the rest of that day, the rest of the month, the rest of your life.
You HAVE to take a chance and take absolute action, without fear and without hesitation.
Another Story
Let me tell you another story that just happened recently.
I had an idea.  It was one of those ideas where I actually heard angels singing, you know, like when they put peanut butter and jelly in the same squeezable bottle?
It was an idea for a DVD.  Not only a DVD, but a really good one.  It involved some pretty unique training for athletes and I wanted to have Joe DeFranco involved. Joe and I worked on the AMPED system together and I thought this new product would be just as successful.
So here is the sequence of events that happened after the idea.
Saturday: I called Joe, he did not answer (he never does, he's always too busy!)
Saturday (1o min later): I texted Joe to have him call me NOW!
Saturday (many minutes later): Joe called me, I told him my idea
Tuesday (3 days later): We were filming
To put it mildly, I take action.  I don't hesitate.  Because if I hesitate, I might miss the opportunity to be great. I might miss the opportunity that might not present itself again.
In this case, it was never so true.  DeFranco has something big going on and if I didn't act, this DVD would NOT have happened.  There was a very small window to film and get it ready.  That was the hard truth and instead of saying "f*ck it" or "we'll film it later", we DID it.  BOOM!
PLEASE LISTEN TO ME NOW
Don't let other people's complacency lull you into not being great.  Be your own person.  Park your car out in BFE and walk your ass to Walmart.
Oh yeah, here is the trailer for the new DVD:
FREE DIESEL NEWSLETTER
Discover Pain Free, Joint-Friendly Training
Get Super Effective Workouts and Programs
Inspirational Life Lessons Each Week
Effective Habits For Busy Entrepreneurs